The Compline Choir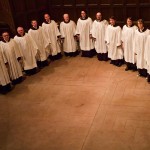 , an all-male ensemble, has three openings for countertenor, high tenor, and low bass beginning August 24.
Interested singers should send résumé or curriculum vitae to the Director by June 28; also, list two references who can speak to your musicianship and singing ability.  Those invited for in-person auditions should prepare a lyric song showcasing legato, sustained singing, be prepared to sight read music in modern and square-note notation, and will undergo a variety of music fundamentals and ear training diagnostics. Auditions are Sunday evenings, 6:30-7:30pm, through July 13. Finalists will be notified by July 16.
All members of the Compline Choir, including its Director, are unpaid and commit to rehearse for and sing in 44 of 52 Compline services per year, with one or two added special per year. The choir rehearses Sunday evenings, 7:30-9:15pm, and chants the office of Compline Sunday nights, 9:30-10pm.